ST. JOSEPH, PATRON OF THE UNIVERSAL CHURCH,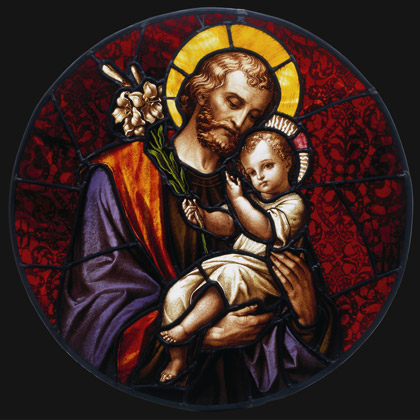 PRAY FOR US.
Words spoken by the Blessed Virgin Mary to St. Bridget of Sweden rearding St. Joseph:
"St. Joseph was so reserved and careful in his speech that not one word ever issued from his mouth that was not good and holy, nor did he ever indulge in unnecessary or less than charitable conversation. He was most patient and diligent in bearing fatigue; he practiced extreme poverty; he was most meek in bearing injuries; he was strong and constant against my enemies; he was the faithful witness of the wonders of Heaven, being dead to the flesh and the world, living only for God and for heavenly goods, which were the only things he desired. He was perfectly conformed to the Divine Will, and so resigned to the dispositions of Heaven that he ever repeated: 'May the Will of God always be done in me!' He rarely spoke with men, but continually with God, whose Holy Will he desired above all things to perform. Wherefore, he now enjoys great glory in Heaven."
From The Autobiography of St. Teresa regarding St. Joseph:
"I took for my advocate and lord the glorious Saint Joseph and commended myself earnestly to him; and I found that this my father and lord delivered me both from this trouble and also from other and greater troubles concerning my honor and the loss of my soul, and that he gave me greater blessings than I could ask of him. I do not remember even now that I have ever asked anything of him which he has failed to grant. I am astonished at the great favors which God has bestowed on me through this blessed Saint, and at the perils from which he has freed me, both in body and in soul. To other saints the Lord seems to have given grace to succor us in some of our necessities, but of this glorious Saint my experience is that he succors us in them all and that the Lord wishes to teach us that as He was Himself subject to him on earth (for, being His guardian and being called His father, he could command Him) just so in Heaven He still does all that he asks. This has also been the experience of other persons whom I have advised to commend themselves to him; and even to-day there are many who have great devotion to him through having newly experienced this truth."
"I wish I could persuade everyone to be devoted to this glorious Saint, for I have great experience of the blessings which he can obtain from God. I have never known anyone to be truly devoted to him and render him particular services who did not notably advance in virtue, for he gives very real help to souls who commend themselves to him. For some years now, I think, I have made some request of him every year on his festival and I have always had it granted. If my petition is in any way ill directed, he directs it aright for my greater good."
"I only beg, for the love of God, that anyone who does not believe me will put what I say to the test, and he will see by experience what great advantages come from his commending himself to this glorious patriarch and having devotion to him. Those who practice prayer should have a special affection for him always. I do not know how anyone can think of the Queen of the Angels, during the time that she suffered so much with the Child Jesus, without giving thanks to Saint Joseph for the way he helped them. If anyone cannot find a master to teach him how to pray, let him take this glorious saint as his master and he will not go astray."
Litany of St. Joseph
Lord, have mercy.
Christ, have mercy.
Lord, have mercy.

Jesus, hear us.
Jesus, graciously here us.

God, the Father of Heaven, have mercy on us.
God, the Son, Redeemer of the world, have mercy on us.
God, the Holy Ghost, have mercy on us.
Holy Trinity, One God, have mercy on us.
Holy Mary, pray for us.
St. Joseph, pray for us.
Renowned offspring of David, pray for us.
Light of Patriarchs, pray for us.
Spouse of the Mother of God, pray for us.
Chaste guardian of the Virgin, pray for us.
Foster father of the Son of God, pray for us.
Diligent protector of Christ, pray for us.
Head of the Holy Family, pray for us.
Joseph most just, pray for us.
Joseph most chaste, pray for us.
Joseph most prudent, pray for us.
Joseph most strong, pray for us.
Joseph most obedient, pray for us.
Joseph most faithful, pray for us.
Mirror of patience, pray for us.
Lover of poverty, pray for us.
Model of artisans, pray for us.
Glory of home life, pray for us.
Guardian of virgins, pray for us.
Pillar of families, pray for us.
Solace of the wretched, pray for us.
Hope of the sick, pray for us.
Patron of the dying, pray for us.
Terror of demons, pray for us.
Protector of Holy Church, pray for us.

Lamb of God, who take away the sins of the world, spare us, O Lord.
Lamb of God, who take away the sins of the world, graciously hear us, O Lord.
Lamb of God, who take away the sins of the world, have mercy on us.

V. He made him the lord of his household.
R. And ruler over all his possessions.

Let us pray.
O God, who in Thy ineffable providence, was pleased to choose Blessed Joseph to be the spouse of Thy most holy Mother; grant, we beseech Thee, that we may be worthy to have him for our intercessor in Heaven, whom we venerate on as our protector on earth: who livest and reignest forever and ever. Amen.
Prayer to St. Joseph the Worker
Glorious Saint Joseph, pattern of all who are devoted to toil, obtain for me the grace to toil in the spirit of penance, in order thereby to atone for my many sins; to toil conscientiously, putting devotion to duty before my own inclinations; to labor with thankfulness and joy, deeming it an honor to employ and to develop, by my labor, the gifts I have received from Almighty God; to work with order, peace, moderation, and patience without ever shrinking from weariness and difficulties; to work above all with a pure intention and with detachment from self, having always before my eyes the hour of death and the accounting which I must then render of time ill spent, of talents unemployed, of good undone, and of my empty pride in success, which is so fatal to the work of God. All for Jesus, all through Mary, all in imitation of thee, O Patriarch Joseph! This shall be my motto in life and in death. Amen.